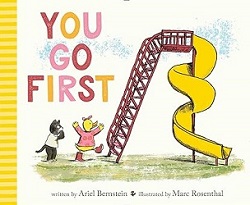 You Go First
Review posted October 22, 2023.
A Paula Wiseman Book (Simon and Schuster Books for Young Readers), 2023. 48 pages.
Review written July 27, 2023, from a library book.
Starred Review
This book begins with pictures of many animal-children playing on a playground. Then we zoom in on two of them, happily arriving.
Cat and Duck,
two very good friends,
arrived at the playground.
They wanted to go on the slide.
But then we see that it's a new slide -- and the new slide is very tall and has a chute that loops around twice. Duck is excited, but Cat looks wary.
What follows is Cat making many excuses to put off trying the new slide -- because Cat is a very good friend.
When Duck finally uses her own cleverness to let Cat go first, we've got a wonderful scene of Cat joyfully going down the slide with a large "WHEEE!"
Duck tells Cat she knew Cat could do it!
Duck was a very good friend.
This story is beautifully paced, with a story of friendship and overcoming fear that all kids can relate to.
I love the way the emotions are not spelled out -- but show clearly on the characters' faces. A wonderful way to discuss feelings with children -- and readers will feel clever when they know what is going on.
One of those first exercises in understanding emotions behind things that people don't say, this book will be a hit in storytimes.