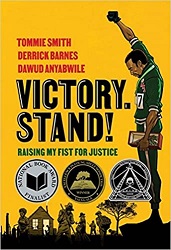 Victory. Stand!
Raising My Fist for Justice
Review posted March 27, 2023.
Norton Young Readers, 2022. 204 pages.
Review written January 18, 2023, from a library book.
Starred Review
2023 Coretta Scott King Author Award Winner
2023 Coretta Scott King Illustrator Honor
2022 National Book Award Finalist
2023 YALSA Excellence in Nonfiction Finalist
2022 Cybils Award Finalist, High School Nonfiction
2023 Capitol Choices Selection
This graphic novel memoir tells the story of world-record-breaking track star Tommie Smith, who raised his fist on the gold medal podium of the Mexico City Olympics in 1968 to protest racial injustice in the United States.
The book weaves in scenes from that pivotal race through the whole book, while telling the story of Tommie's life. He started out as the seventh child of a sharecropping family in Texas, and left with a busload of other Black folks to California. There, he got to go to school regularly, and his life changed.
I love the way graphic novel memoirs show you the emotions of the characters. We see Tommie grow and develop into an athlete. He won a college scholarship in three sports -- football, basketball, and track. But when he began breaking records in track, that became his focus.
At the same time, the Civil Rights Movement was gaining steam and Tommie wanted to bring attention to the cause, using the platform of being a world-class athlete.
But when he raised his fist during the anthem at the Olympic games, he was sent home immediately and his athletic career ended. He also became a target of hate and couldn't even find a job for a while.
I like the way the book describes his emotions and thoughts while standing there on the platform. "We had to be seen because we were not being heard."
Eighty seconds.
That's how long we stood
there as the anthem played.

Those fists in the air were
dedicated to everyone at home,
back in the projects in Chicago,
Oakland, and Detroit,
to everyone in the boroughs
of Queens and Brooklyn,
to all of the brothers
and sisters, fathers and mothers
in Birmingham, Atlanta, Dallas,
Houston, St. Louis, New Orleans,
to everyone struggling, working
their fingers to the bone
on farms across America,
to everyone holding out hope
that things will get better . . .

. . . that was for you,
from John and me.
This is a powerful story of someone who gave up so much in order to make a statement about people who were being overlooked.