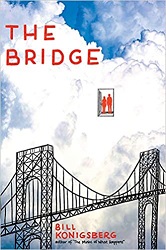 The Bridge
Review posted January 17, 2021.
Scholastic Press, 2020. 388 pages.
Review written October 27, 2020, from a library book
Starred Review
2020 Sonderbooks Stand-out
:
#1 General Teen Fiction
The Bridge is a book about suicide.
Two teens, Aaron and Tillie, come to George Washington Bridge to end their lives on April 17. This book tells the four possible stories that could happen from there.
First, chapters 1A through 10A, we find out what happens if she jumps but he doesn't. (Seeing her jump shook him and stopped him.) Multiple perspectives are used, but mostly we find out how Aaron moves on from there. He does get help, gets diagnosed with depression, and is shaken by how close he came to ending it all. We also see how the lives of Tillie's family and friends are devastated by her loss.
Then, chapters 1B through 4B (They're longer chapters), we get the story of what happens if Aaron jumps but Tillie doesn't. Tillie's got several different pressures to deal with – getting bullied, a tough break-up, and family pressures. In this thread, she works on dealing with that. We also see the devastation among Aaron's family and friends.
Chapters 1C through 12C show us the long-range effects if both of the teens jump from the bridge that day. And when I say long-range, each chapter presents something years later, all the way up to thirty-five years later at Aaron's father's funeral, where no relative attends. We see the many holes in lives where those two were missing.
The longest section is Chapters 1D through 13D, where the two stop each other from jumping. Things play out differently from the first two scenarios, with some similarities, but the author does a good job of not being repetitive. In this iteration, they have a peer who understands what they're going through.
Even though you know what will happen in the big picture sense (the idea is presented on the flap), this story is gripping. It's dealing with suicide, and the author does communicate the despair, so I'm glad I was able to read it in one marathon session rather than stop in the middle. But ultimately, it's a story of hope, and an effective way to show that individual lives matter.
Yes, there are resources at the back and the author's own story of being suicidal as a young adult. He spells out in the Author's Note what the story communicated:
Last but most crucially: You matter. You really, really matter. We want you here. The world wants you here, even when it feels like the opposite is true. It took me so many years to understand that I matter, and I'm extremely grateful that I stayed around long enough to learn that lesson.
This book is a wonderful example of showing rather than telling a story involving deep emotions. It's a message book, yes, but it's also a compelling story that's hard to put down.