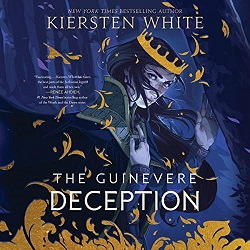 The Guinevere Deception
Review posted 1/21/21
Delacorte Press, 2019. 10 hours, 51 minutes.
Review written December 28, 2020, from a library eaudiobook Starred Review
2020 Cybils Finalist
, Young Adult Speculative Fiction
2020 Sonderbooks Stand-out
:
#7 Teen Speculative Fiction
This is the second book I've listened to that's read by Elizabeth Knowelden (the first being Damsel, by Elana K. Arnold), and she's my new favorite female narrator. Her voice makes anything sound magical. Interestingly, The Guinevere Deception has a beginning similar to Damsel, with both having a young teenage girl being brought to a castle to wed a king.
In The Guinevere Deception, the girl is going to wed King Arthur. But as the title hints, the girl is not actually Guinevere. Merlin, who has been banished from Camelot along with all magic, has substituted this girl for Guinevere so that she will be in place to protect King Arthur from a coming threat.
We don't even learn the girl's original name, as she takes on the identity of Princess Guinevere and marries Arthur. She learns about Camelot and what's expected of a queen, while always on the look out for threats to Arthur, especially magical threats, which is where she can best protect him.
Even knowing a skeleton version of Arthurian legend, I had plenty of surprises reading this book. Guinevere is proficient in certain simple types of magic, but how can she protect Arthur when she doesn't even know what threat is coming, and when he is often away from Camelot and from his queen? There's a patchwork knight winning jousts, and Guinevere is sure he is not what he seems. And what about the Dark Queen – was she really defeated as decisively as Arthur thinks? How, then, was a village destroyed by the forest right on the border of Camelot?
And meanwhile, why is Guinevere forgetting her past and who she was before she took on the identity of Guinevere?
I was delighted to learn that this is Book One of a trilogy – so now I'll get to listen to more!