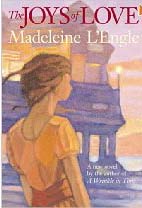 The Joys of Love
Review posted May 29, 2009.
Farrar Straus Giroux, New York, 2008. 255 pages.
Starred Review.
Here's a wonderful discovery -- a novel Madeleine L'Engle wrote back before she was appreciated, for which she couldn't find a publisher. The novel is beautiful, and classic Madeleine L'Engle. I'm so glad her grandchildren decided to share it with the world.
Elizabeth Jerrold is an apprentice at a professional Summer Theatre in the 1940s, after the war. She dreams of making it as an actress, despite the way her aunt and guardian despises the theatre, afraid she'll turn out like her mother. This summer is her chance to get her start, and she's thrilled to be here.
She's also falling in love with Kurt Canitz, the director at the theatre. He's spending time with her, walking and talking with her. He's so wise in the ways of the world and the theatre, how can she help but fall in love?
And then she has so much time with her fellow apprentices, learning and rehearsing and growing as actors and actresses. They get to see the professional, a different one each week, who stars in their productions. As apprentices, they learn much from how the different stars act, on stage and off.
Madeleine L'Engle's romances are so refreshingly wholesome. I love the way her characters talk earnestly about life and about what's truly important. This is a romance, but it's not fluffy silliness. Instead, it's about what is art, what is vocation, and what is love.
This is a beautiful and uplifting book. Madeleine L'Engle fans will want to snap it up, one more way for a truly great writer to live on in our hearts.