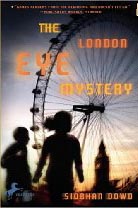 The London Eye Mystery


Reviewed July 7, 2009.
David Fickling Books, New York, 2007. First published in Great Britain, 2007. 323 pages.
Sonderbooks Stand-out 2009
: #5 Other Teen Fiction
We took Salim to the Eye because he'd never been up before. A stranger came up to us in the queue, offering us a free ticket. We took it and gave it to Salim. We shouldn't have done this, but we did. He went up on his own at 11.32, 24 May, and was due to come down at 12.02 the same day. He turned and waved to Kat and me as he boarded, but you couldn't see his face, just his shadow. They sealed him in with twenty other people whom we didn't know.
Kat and I tracked Salim's capsule as it made its orbit. When it reached its highest point, we both said, "NOW!" at the same time and Kat laughed and I joined in. That's how we knew we'd been tracking the right one. We saw the people bunch up as the capsule came back down, facing northeast towards the automatic camera for the souvenir photograph. They were just dark bits of jackets, legs, dresses and sleeves.
Then the capsule landed. The doors opened and the passengers came out in twos and threes. They walked off in different directions. Their faces were smiling. Their paths probably never crossed again.
But Salim wasn't among them.
We waited for the next capsule and the next and the one after that. He still didn't appear. Somewhere, somehow, in the thirty minutes of riding the Eye, in his sealed capsule, he had vanished off the face of the earth. This is how having a funny brain that runs on a different operating system from other people's helped me to figure out what had happened.
This mystery reminds me of The Curious Incident of the Dog in the Night-time, narrated as it is by someone whose "brain runs on a different operating system from other people's." This one is much less grim and offers an intriguing mystery with a believable solution.
This book is, fittingly, more cerebral than emotional, since Ted isn't very good at reading emotions. Though we can see the emotions of everyone in his family are on edge when Salim disappears, and the author handles it well.
I'm not sure when I've last read such an enjoyable mystery appropriate for middle school students through teens. Ted is a young teen himself, but the reader can believe that he had the insight and noticed the details to solve the mystery. It isn't a case, as in some mysteries for young people, of just happening to deal with stupid adults.
My biggest regret, after reading this book, is that I never went up in the London Eye when I was in London.