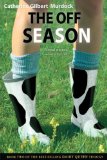 The Off Season
Review posted March 16, 2011.
Listening Library, 2007. 5 CDs. 6 hours.
Starred Review
After listening to Dairy Queen, I simply had to find out what happened next. I very much liked the narrator, Natalie Moore, and I could easily imagine her voice as DJ's voice. (I was disappointed when the library didn't have the third book in audiobook version.)
In The Off Season, DJ gets injured badly enough that she decides she'd better stop playing football in order to stay healthy for her true sport, basketball. But that's only the beginning. She breaks up with Brian. Her brother Win has a devastating injury.
In the middle of this book, it seemed like everything that could possibly go wrong was going wrong for DJ and her family. I almost didn't want to keep listening, because I was hurting for DJ.
Later, when I heard the author speak, I learned that she used to be a screenwriter, so she purposely used the three-act structure where everything looks black in the second act. And believe me, everything looks black in the middle of this book.
However, the author really pulls off a happy ending. DJ tackles her problems with the same fighting spirit that motivated her to play football in the first book -- only now the stakes are much higher. By the end, you're definitely cheering for her.
I have to say that, even though I didn't like it when DJ broke up with Brian, because I liked him and had fallen for him with DJ -- I was very proud of her. She broke up with him because he was ashamed to be seen with her. He never introduced her to his friends or his parents. And DJ figured out that she wanted to be with someone who was proud of her, who wanted the world to know that they were together. I loved it that she did that. I loved it that she figured out that was a dealbreaker. How often do you see that in books for teens? It was one more thing that made this book great -- as well as heart-wrenching.
This review may be unnecessary. Those who read the first book, will, like me, be sure to want to read the second and third. But writing it gives me an excuse to again loudly cheer for DJ Schenk. She's a high school girl with weaknesses and world-sized problems -- but she ends up as an inspiration.