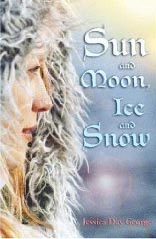 Sun and Moon, Ice and Snow


Review posted November 17, 2008.
Bloomsbury, New York, 2008. 328 pages.
Starred Review.
Sonderbooks Stand-out 2008
: #5 Fantasy Teen Fiction
Long ago and far away in the land of ice and snow, there came a time when it seemed that winter would never end. The months when summer should have given the land respite were cold and damp, and the winter months were snow filled and colder still. The people said the cold had lasted a hundred years, and feared that it would last a hundred more. It was not a natural winter, and no one knew what witch or troll had caused the winds to howl so fiercely.
Here's a beautiful retelling of the fairy tale, "East of the Sun, West of the Moon."
When a ninth child is born to a poor woodcutter in the far north, the mother is so disappointed the baby is a girl, she doesn't even give the baby a name. However, this lass is destined to change the family's fortunes.
Jessica Day George beautifully fleshes out the story, putting us firmly on the side of this brave lass who cares about her loved ones enough to defy the powerful queen of the trolls.
The only thing that hurt my enjoyment of this story was that I already have read a much-loved retelling of this same fairy tale, East. It's been a long time since I read that version, but it feels somehow disloyal to that book to like this new version so much. These are both books I will want to reread, but I will have to alternate which one I read, in order to keep from comparing them. Both are beautifully done, each with their own take on the story.