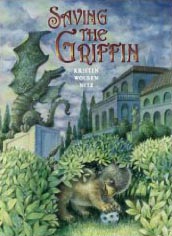 Saving the Griffin
Review posted November 29, 2008.
Peachtree, 2007. 184 pages.
Starred Review.
Sonderbooks Stand-out 2007
: #1, Children's Fiction
I'm finally reviewing my friend Kristin's wonderful book. Unfortunately, when it first came out, I was in the middle of moving and grad school and lots of things that led to stacks of books I meant to review but didn't quite get around to.
I freely admit that I am biased about this book. Kristin is part of my online writers' critique group, the Sisters of Royaumont, so I saw early versions of this book and contributed some encouragement and suggestions.
However, I've gotten lots of feedback from kids that they love this book. My nephew declared it the best book he'd ever read. Recently, the Homeschoolers' Book Group at my library chose Saving the Griffin as their first selection, and every one of them said they liked it a lot.
Kate and her family, with an older brother and a younger brother, are living in Italy for a month. When a baby griffin interrupts their ball game, at first Kate thinks she must have looked at too many wild statues. She and Michael try to keep the griffin a secret, while feeding him and helping him learn to fly and even to say a few words.
Their older brother, Stephen, thinks he's too grown up for their "games," and doesn't realize what he's missing. But the little griffin gets spotted by a photographer and then gets lost in Siena. Kate and Michael need to help him find his way home.
One of the things I like about this book is the perfect depiction of the sibling tensions between Kate and her brothers. Stephen is suddenly acting too grown-up for them, but Kate remembers when he was her companion, and Michael was just a baby. I also loved the way Kristin, who lived in Italy for a few years, beautifully integrated the Italian setting and words in Italian, giving the flavor of Italy.
The kids in the book group said they especially liked the way the book mixed magic with everyday life.
This book isn't long, and would be a nice follow-up for kids who enjoy The Spiderwick Chronicles. I admit I'm biased, but I did like Saving the Griffin better. It has a more light-hearted feel. You're dealing with an adorable baby griffin rather than sinister angry characters. However, there is still tension in trying to save the little griffin from the dangers of the human world.