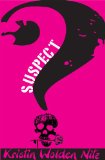 Suspect
Reviewed October 7, 2010.
Peachtree, Atlanta, 2010. 199 pages.
Starred Review
2010 Sonderbooks Stand-out
: #5 Other Teen Fiction
Okay, I'll say right up front that I'm biased about this book. Kristin Wolden Nitz is my friend. She's a fellow member of the Sisters of Royaumont. We met at a children's writers' retreat at an abbey outside Paris back in 1999, started an e-mail critique group, and were reunited at another retreat at the same abbey, Abbaye de Royaumont in 2005, with time together in Paris before and after. Kristin is an inspiration to me as a writer. She's persistent and versatile.
I've given Kristin some critiques on some of her books before they were published, but not this one. Getting to pick up a copy of the Uncorrected Proof at ALA Annual Conference was the first I got to read it. I was very impressed and enjoyed it thoroughly.
When her Grandma Kay needs some help for the summer at the family bed-and-breakfast, 17-year-old Jen agrees to help out. Her dad warns her, though, that Grandma Kay has gotten a crazy idea into her head that Jen's mother is dead.
Jen's mother left fourteen years ago. She's written to Jen over the years and sent her presents, but she's never been back. Now it's been a few years since Jen heard from her. Still, why would Grandma Kay now think she's dead? Has she been watching too many murder mysteries?
Grandma Kay does have a thing for mysteries. Every year she hosts a mystery weekend at the bed-and-breakfast for a competitive group of would-be sleuths. This year, Jen has an uncomfortable feeling that Grandma Kay is modeling the mystery after Jen's mother's disappearance. And Jen gets to play the role of the victim.
What's more, if Jen's mother was killed, who killed her? Was it one of the people Jen has known and loved all her life, one of the people assembled for the murder mystery weekend?
On top of everything else, Jen's boyfriend just broke up with her, and she's finding herself feeling strange things when she's around Mark, her "uncousin" -- like family, a friend since childhood, but not actually related to her.
It all adds up to an excellent "cozy" mystery. You've got believable romance, an intriguing and well-plotted mystery, and characters you like and enjoy.
There aren't so many mysteries out there with teenage characters. This one takes a capable teenage girl and casts her in the middle of an intensely personal mystery she'd rather not be part of. Will she be the detective, or the victim?
This book will keep you turning the pages and leave you with a satisfied smile at the end.