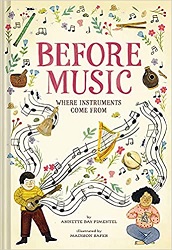 Before Music
Where Instruments Come From
Review posted September 6, 2022.
Millbrook Press, 2022. 32 pages.
Review written September 7, 2022, from a library book.
Starred Review
2022 Sonderbooks Stand-out
:
#2 Children's Nonfiction
I was not at all prepared for how charmed I would be by this book. Before the title page, pictures filling up oversize pages show you a boy with a drum and a woman with a stringed instrument making music. There's a bit of text:
Music doesn't come out of nothing.
It always starts somewhere. . .
with something. . .
with someone.
I expected to learn about the instruments of the western orchestra. But instead, the first instrument presented is a rock gong, and the next one a pututu, made from a seashell. Yes, instruments from western orchestras are included, but they're a relatively small part of the many, many ways that humans make music.
At the back of the book, the author explains that different cultures classify musical instruments in different ways. "In writing this book, I was inspired by the ancient Chinese system, which focused on the materials instruments are made of." Each group of instruments is presented first with a large painting and pictures of someone making an instrument of that type. Next, the book explains how that material makes music, then we see many more instruments made with that material, subdivided using the Indian and Javanese focus on how they are played.
And there are so many kinds of instruments! Leafing through the 88 pages, I see instruments made from rock, found objects, clay, gourds, strings, metal, wood, reeds, flexible sheets, and human voices. Mixed between the descriptions of instruments and how they are made are features of musical innovators, people who figured out how to make new sounds from materials already used for instruments or how to improve what was being used.
As an example of the amazing variety found here, on the gourd instruments page, I see thirteen instruments from countries all over the world, only two of which I'd ever heard of before.
This book is fascinating and beautiful. There are suggestions at the back for kids to make their own musical instruments.