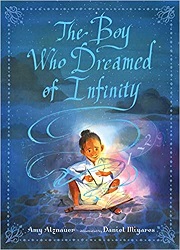 The Boy Who Dreamed of Infinity
A Tale of the Genius Ramanujan
Review posted 1/26/21.
Candlewick Press, 2020. 48 pages.
Review written July 11, 2020, from a library book
Starred Review
2020 Sonderbooks Stand-out
:
#3 Children's Nonfiction Picture Books
The Boy Who Dreamed of Infinity is a longer-than-usual picture book biography of the mathematical genius, Srinivasa Ramanujan. The book focuses on his growing-up years with his constant thinking about mathematical ideas and passion for it that couldn't be contained.
Here's how the author talks about the young Ramanujan's thoughts:
What else is small? Ramanujan wondered. He remembered the legend of the single egg that cracked open to reveal the entire universe. He thought about a mango.
A mango is like an egg. It is just one thing. But if I chop it in two, then chop the half in two, and keep on chopping, I get ore and more bits, on and on, endlessly, to an infinity I could never reach. Yet when I put them back together, I still have just one mango.
He loved this idea, small and big, each inside the other. If he could crack the number 1 open and find infinity, what secrets would he discover inside other numbers? It felt like he was setting out on a grand chase.
Numbers were everywhere. In the squares of light pricking his thatched roof. In the gods dancing on the temple tower. In the clouds that formed and re-formed in the sky. Every day he wrote numbers in the sand, on his slate, on slips of paper, his slender fingers flying, each number a new catch.
The book tells about Ramanujan's life in India before he finally got an answer from the mathematician G. H. Hardy and was invited to England. It captures his obsession with numbers and his difficulty in doing other things. His parents tried him in a new school every year, because he didn't fit into the molds they wanted. Eventually he failed college because all he would think about was math.
I love that the author is also a mathematician, and I think she does a great job expressing Ramanujan's genius, overflowing ideas, and desire to be heard. The artist paints wonderful illustrations to go with the text, showing us an imaginative boy dreaming about numbers and living in a land with lots of sunshine.
The book ends as Ramanujan travels to England:
As he rocked on the steamer and gazed up at the great night sky, so full of stars that it looked like a glittering infinity, he never could have guessed that someday scientists would use his ideas to help explore that sky and that his work would change the course of mathematics forever. One hundred years later, people would still search his notebooks in wonderment, trying to discover what he was thinking.