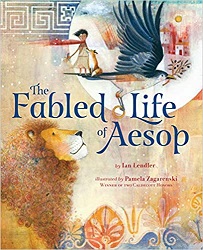 The Fabled Life of Aesop
Review posted 1/20/2021.
Houghton Mifflin Harcourt, 2020. 64 pages.
Review written March 24, 2020, from a library book
Starred Review
2020 Sonderbooks Standout
:
#2 Children's Nonfiction Picture Books
This is a collection of Aesop's fables that stands out for two important reasons.
The first outstanding thing about it is the stunning illustrations by Caldecott-Honor-winning artist Pamela Zagarenski. Every page of this book is beautiful to look at. The illustrations feel otherworldly, adding to the universal nature of the fables.
The second outstanding feature is that the author presents the life of Aesop before and after presenting most of the fables. I knew, I think, that Aesop had been a slave, but very little else. Ian Lendler tells about his different owners and how he won his freedom with his wisdom.
He also explains why fables were important for slaves – a way to tell the truth indirectly and thus not get into trouble. He imagines situations for Aesop to tell several of his fables in the story of his life, thus avoiding trouble while sharing wisdom. I like that the author clearly shows – with one of Aesop's fables – that freedom was the greatest treasure he could win.
There's an author's note at the back that explains what we know and don't know about Aesop. But that the idea of a slave who won his freedom with his wisdom was attached to the fables for more than 2,000 years.
This book gave me a whole new appreciation for these fables that I've heard over and over again. Children being introduced to them this way will find them magical.