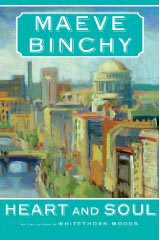 Heart and Soul
Review posted June 1, 2009.
Alfred A. Knopf, New York, 2009. 418 pages.
Starred Review.
Sonderbooks Stand-out 2009
: #4 Fiction
Maeve Binchy's books are warm, friendly, and cozy. She specializes in telling stories about a community of people. In Heart and Soul, the community is a new heart clinic in Dublin. We look through windows into the lives of the people who come to work at the clinic, the patients, and others touched by them.
To add to the fun, the author brings back old friends who played a part in her earlier books. You definitely don't need to have read the earlier books to appreciate Heart and Soul, but it does make you feel that you are catching up with old friends. I found myself wishing that I had not missed her last book, Whitethorn Woods. I will definitely have to rectify that.
In Maeve Binchy's earlier books, there seemed to be a pattern that the more ideal the marriage seemed, the more sure you could be that it was doomed. These more recent books are gentler. People still have problems, but personally I'm glad that there are less dirty rotten cheating husbands than in some of her earlier books. Her characters cope with their problems with courage, compassion and resilience, and it's delightful to spend time in the company of these people.