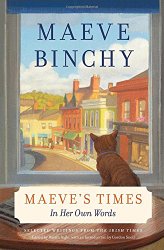 Maeve's Times
In Her Own Words
Selected Writings from The Irish Times
Reviewed June 21, 2015.
Alfred A. Knopf, New York, 2014. 383 pages.
Starred Review
This is a book for the many people who love Maeve Binchy's writing and are so sorry she's gone.
The book consists of articles she wrote for The Irish Times, beginning in 1964 (the year I was born).
Some of the articles might not seem relevant today -- but you can hear Maeve's voice in all of them. She was always curious, always with a sparkle of humor, always insightful. She saw the people around her, with all their foibles and quirks.
The most dated things here are the articles about royal weddings, but those are particularly fun. Maeve was a people-watcher from the beginning. She sometimes comments on her tendency to ask questions that end up being awkward rather than leaving well enough alone. She was always curious about people and their motives.
And oh my yes, she could write. Reading these, it's no marvel how wonderful her novels were. She was constantly sharpening her skills of observation and insight and, simply, writing.
The articles are short. I was taking my time over this book, only reading an essay or two per day. Then I finished up in a splurge during the 2015 48-Hour Book Challenge.
This is a cozy, friendly book for those who, through her writing, had come to think of Maeve Binchy as a friend we'll miss.