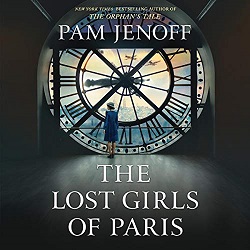 The Lost Girls of Paris


Reviewed February 16, 2021, from a library audiobook.
HarperCollins, 2020. 451 pages.
I checked out the audiobook of The Lost Girls of Paris because I've discovered a new favorite female narrator in Elizabeth Knowelden, when I listened to her read The Guinevere Deception, after already being enchanted by her voice in Damsel. I was looking for an adult book to read after finishing my reading for the Cybils Awards at the end of 2020, and The Lost Girls of Paris was a lovely choice.
The main storyline of this book is set in New York just after World War II has finished. A young lady named Grace who lives and works in New York City discovers an abandoned suitcase in Grand Central Station and finds photographs inside of twelve young women. Then she discovers that the owner of the suitcase, Eleanor Trig, died that morning in a car accident. Grace wants to know who the girls are and what happened to them.
There are three narrators of this book. Grace gets one viewpoint, and the next narrator, the one read by Elizabeth Knowelden, tells Eleanor's perspective, back during the war. She worked for Special Operations in London – and gets tasked with recruiting and deploying young women to go to occupied France to be radio operators.
The third perspective is that of Marie, who is one of Eleanor's recruits. We see her train and then go to Paris.
It's a good story, and gripping, and I like the way it's told, going between the three perspectives and telling us things at different times. I'll tell the reader right up front, though: Too many people I cared about died in this book.
Okay, it's a book about war. It's a lot more realistic to have people die. But I like a dose of triumph with death, and these deaths didn't have that so much. If you want to read an amazing story about young women who worked in France for Special Operations during World War II, I'd rather refer you to the incredible Code Name Verity, by Elizabeth Wein.
That said, it was still a well-told story, with action, danger, and mystery. And I still love listening to anything Elizabeth Knowelden reads.