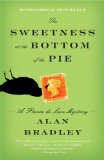 The Sweetness at the Bottom of the Pie
Reviewed June 2, 2010.
Delacorte Press, 2009. 373 pages.
2007 Debut Dagger Award
2009 Agatha Award for Best First Novel
Starred Review
Sonderbooks Stand-out 2010
: #3 Fiction
This wonderfully clever and intriguing mystery published for adults stars an 11-year-old sleuth, Flavia DeLuce. It makes me wonder why the book was not published for children or teens. Though I am sure of this: Parents would not want their children emulating Flavia! Although this qualifies as a "cozy" mystery, which made it eligible for the Agatha Award it won, it is not watered-down or tame, and there's nothing to keep adults from liking it.
Flavia is one of those brilliant children with a special passion for one subject. Her interest is in chemistry, with a particular focus on poisons. Flavia and her two older sisters have a turbulent relationship -- the book begins with Flavia escaping from being tied up in a closet, and we learn that it was her sisters who put her there. Her reprisal is quite brilliant, but not very nice.
The mystery begins when a dead bird appears on their doorstep at Buckshaw with a postage stamp impaled on its beak. Then later, Flavia hears her father arguing with someone, talking about a death, and what sounds like blackmail from the other person. She's pulled away from listening at the keyhole, but that night she gets up in the early hours of the morning, notices a piece of Mrs. Mullet's awful custard pie missing, and goes out into the garden.
There she finds a stranger lying in the cucumber patch. He says something mysterious and promptly dies. Flavia reflects:
I wish I could say my heart was stricken, but it wasn't. I wish I could say my instinct was to run away, but that would not be true. Instead, I watched in awe, savoring every detail: the fluttering fingers, the almost imperceptible bronze metallic cloudiness that appeared on the skin, as if, before my very eyes, it were being breathed upon by death.
And then the utter stillness.
I wish I could say I was afraid, but I wasn't. Quite the contrary. This was by far the most interesting thing that had ever happened to me in my entire life.
That all happens in the first two chapters. When, before long, Flavia's father is taken into custody for the murder, Flavia decides to confess herself. For some reason, the authorities don't take her seriously. So she feels compelled to find out more about the man who died in their garden, his history with her father, and the death of a teacher so many years ago.
Armed with her bike, which she's named Gladys, Flavia is a resourceful and persistent sleuth. Definitely not an obedient and retiring young lady. Definitely not someone I'd want as my younger sister.
The "About the Author" section at the end of the book says that this is the first of a planned series about Flavia DeLuce. Hooray! If he can keep later books half as inventive and keep Flavia's spark of mischief a fraction as fiery, that series will be one I'll snap up just as soon as each volume is published. I can't wait for more!
Hooray! As soon as I wrote that, I checked Amazon, and the next book is already out! -- The Weed That Strings the Hangman's Bag. I think I'll be making a purchase....