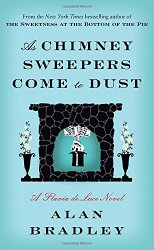 As Chimney Sweepers Come to Dust
Review posted August 29, 2015.
Random House Audio, 2015. 11 hours on 9 compact discs.
Starred Review
I decided to listen to the next installment of the Flavia de Luce books, after learning it's read by Jayne Entwistle, whom I heard read The Scandalous Sisterhood of Prickwillow Place and heard in person at the 2015 Odyssey Award reception. This added to the fun, though I think I would have enjoyed this book anyway. I was afraid it would degenerate into a standard school story -- but Flavia is anything but standard.
Flavia has, however, been sent off to school in Canada. But the very night she arrives, a body falls out of the chimney in her room. The body is wrapped in a Union Jack and has been there awhile. It is clearly a murder, since the head is not attached.
Flavia has no relationship with the police in Canada, so she has little access to clues, beyond what she saw that first night. But she does have access to the school's chemistry lab, and I was happy when her knowledge of poisons did come into play.
I wasn't thrilled with the hints that the school was training ground for a league of espionage. That seemed a little far-fetched. However, it did make for some nice red herrings along the way. Because there are secrets everywhere at Miss Bodycote's Female Academy.
Basically, Flavia has a nice classic murder to solve. Who was killed, and how? And she's not in her native element. Can she pull it off? Flavia is still her unique manipulative self, with a knack for uncovering secrets and an uncanny knowledge of poisons.