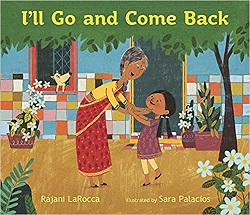 I'll Go and Come Back
Review posted September 3, 2022.
Candlewick Press, 2022. 36 pages.
Review written April 23, 2022, from a library book
Starred Review
2022 Sonderbooks Standout
:
#4 General Picture Books
I'll Go and Come Back is a lovely picture book telling two parallel stories. First, a girl and her parents fly across the world to India "to see aunties and uncles, cousin-brothers and cousin-sisters, and Sita Pati."
At first, she feels lonely when her cousins are in school. It's all so different. She wants to go home.
But even though they don't speak the same language, she and her Sita Pati do fun things together, filling the time with love and joy.
When it was time to go home, I didn't want to. I held Pati's hand with its soft, soft skin. Her sari rustled and smelled of silk. "Goodbye," I said.

"Poitu variya?" asked Sita Pati. "Will you go and come?"

And I remembered that no one in India just said "goodbye." "I'll go and come back," I said. "Poitu varen."
Then it's Sita Pati's turn to visit. The next summer, she visits the family in America. She, too, seems lonely at first.
But the girl and her Sita Pati find parallel things to do together. As before, they spend their days playing and reading and cooking.
And when it's time for Sita Pati to go back to India the words of farewell are again, "I'll go and come back."
This picture book will resonate with anyone who has loved ones who live far away.