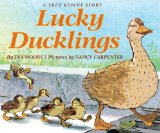 Lucky Ducklings
A True Rescue Story

Review posted October 29, 2013.
Orchard Books, New York, 2013. 32 pages.
This book is a lovely tribute to Make Way for Ducklings, using a true story and an equally cute family of ducklings. A note at the front explains the true story from an incident that happened in June 2000, which the book is based on. Five ducklings fell through a storm grate and had to be rescued by people.
But Eva Moore gives the ducklings names – Pippin, Bippin, Tippin, Dippin, and Little Joe. She shows us the walk from Mama Duck's perspective. She's walking along proudly, stepping over the grate, and all five ducklings fall right through.
When the firemen are called, they can't get the grate up. But then they use a cable from a truck, while someone holds back Mama Duck. Then the firemen can climb down and rescue all five ducklings.
It's all dramatized beautifully, with multiple pictures of adorable ducklings, and plenty of places for the reader to Quack. To get the family all the way to the park, there's even a scene where a fireman holds back traffic while Mama Duck hurries to reunite with her rescued babies.
This doesn't replace Make Way for Ducklings, but it's a lovely book, more modern and shorter, to read alongside the old classic. Some things, like families of ducks, remain the same.