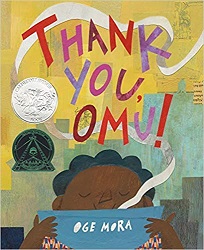 Thank You, Omu!
Review posted March 26, 2020.
Little, Brown and Company, 2018. 36 pages.
Starred Review
Review written October 3, 2018, from a library book
2019 Caldecott Honor Book
2018 Sonderbooks Standout
:
#3 Picture Books - Silly Fun
Here's a contemporary story with a folk tale feel about a friendly elderly lady who makes a delicious big fat pot of thick red stew and shares with everyone who asks. A note at the front tells us that "Omu" is the Igbo term for "queen."
As the thick red stew simmered on the stove, its scrumptious scent wafted out the window and out the door, down the hall, toward the street, and around the block, until –
KNOCK!
Someone was at the door.
Here's the first encounter, with a little boy:
"Little boy!" Omu exclaimed. "What brings you to my home?"
"I was playing with my race car down the hall when I smelled the most delicious smell," the little boy replied. "What is it?"
"Thick red stew."
"MMMMM, STEW!" He sighed. "That sure sounds yummy."
Omu thought for a moment. She was saving her stew for dinner, but she had made quite a bit. It would not hurt to share. "Would you like some?"
The little boy nodded.
And so Omu spooned out some thick red stew from the big fat pot for her nice evening meal.
"THANK YOU, OMU!" the little boy said, and went on his way.
A progression of people show up at Omu's door, smelling the delicious stew. She gives to all – and then when she's ready for her delicious dinner, there is nothing left!
But that is not the end of the story. Everyone who received from Omu that day comes back in the evening with something in return – and there's a happy celebration.
I'm going to try to use this one in storytime and get the kids to call out "Thank you, Omu!" every time a character says that. This is a happy story about the joy of sharing.