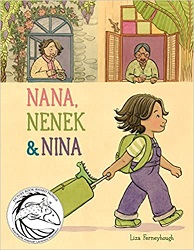 Nana, Nenek & Nina
Review posted 3/2/23.
Dial Books for Young Readers (Penguin Random House), 2022. 32 pages.
Review written January 7, 2023, from a library book
Starred Review
2023 Asian/Pacific American Literature Award Honor Book - Picture Books
For some reason, 2022 saw multiple picture books published about kids visiting grandmas overseas. One of my favorites was I'll Go and Come Back, by Rajani LaRocca, because it showed parallel things happening when the granddaughter went to visit her grandma and when the grandma came to visit instead. It's good I read this book after 2023 began, because now I don't have to compare the two in choosing Sonderbooks Stand-outs!
Nana, Nenek & Nina is also about a child visiting her grandmother in a faraway place, but in this book, the girl (Nina) has two grandmothers who live in faraway places in two directions -- Nana lives in England and Nenek lives in Malaysia.
What's fun about this book is that it shows Nina visiting each grandma on the same spreads, doing parallel activities. For example, here's the spread about her afternoon activities (accompanied by the wonderful pictures):
Rain drops down as Nina hops from puddle to puddle.
When it gets too wet, Nana calls her inside for a cup of hot chocolate.

They play a game on Daddy's old noughts-and-crosses board.
Nina lines her crosses up, one, two, three.
Nina uses up all her outside voice in one loud shout.
When it gets too hot, Nenek calls her inside for a glass of iced Milo.

Her cousins get out Mama's old congkak set.
Nina clacks the marbles, satu, dua, tiga.
It's all just so beautiful and highlights the similarities and differences between the two places. But in both places, Nina is showered with love. The final page shows both grandmas kissing her goodnight.