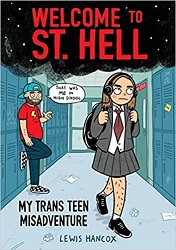 Welcome to St. Hell

My Trans Teen Misadventure


Review posted October 14, 2022.
Graphix (Scholastic), 2022. 298 pages.
Review written October 2, 2022, from a library book
2022 Sonderbooks Standout
:
#4 Teen Nonfiction
Memoirs in graphic novel format are the perfect way to capture all the emotion and angst of the teenage years. In Welcome to St. Hell, Lewis Hancox tells about how difficult life was for him in high school when his name was Lois and everyone thought he was a girl.
Lewis grew up in a small town in England, officially named St Helens, but known to locals as St. Hell. It wasn't a posh town, and the book is peppered with British slang I had to get used to, but it gives the feel of the place where he grew up.
I like the way older Lewis ushers the reader through the book, assuring everyone that it's all going to turn out okay. But he tells how uncomfortable he was in his own skin when everyone - including himself - thought he was a girl.
And yes, when he started making out with his first girlfriend, his dysphoria made him extremely uncomfortable getting intimate -- and there's a diagram showing his naked body as it was then, with all the things he was uncomfortable about highlighted.
Yes, current book banners are citing that page. No, it's not pornography. It's a cartoon, and it's not going to titillate anyone. It's demonstrating his extreme gender dysphoria.
And he went through extremes to try to get a body that looked more like a man's. Extreme dieting followed by obsessive working out. When he finally got to go to a gender identity clinic, it felt like life was opening up for him. And calm and happy adult Lewis, who has been leading us through the book, shows that he did find the solution to his troubles.
So if you've ever wondered what it's like for transgender teens, who may not know yet that they're transgender, only that they're different, I highly recommend this book. And it needs to be available to teens, so the transgender ones who might come across it will know they are not freaks and they are not alone.
If you think that teens are too young to know which gender they are, I offer this book as a counter example. Lewis may not have then known what his feelings meant, but he knew that something was wrong with the way people perceived him. Please have some respect for what people know about their own bodies. Please!