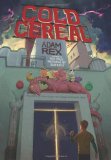 Cold Cereal
Review posted August 21, 2012.
Balzer + Bray, 2012. 421 pages.
Starred Review
I'm going to give Cold Cereal to all the kids waiting for the next Rick Riordan book, at least, if we can keep it on the shelf. (I hope it will soon be as popular.)
Scott thinks he's a normal kid who's simply moved to Goodborough, New Jersey, because of his mom's new job with Goodco Cereal Company. "There's a Little Bit of Magic in Every Box."
Biking to school, Scott sees some strange things in the park. A rabbit-man. A unicat. Scott's sure it's some kind of aura, a neurological event related to his migraines. The only people who are nice to Scott at his new school include some twins, Erno and Emily, and Emily is seriously strange (and super smart). Later, in a restroom, a little man that no one else can see tries to steal his backpack.
What emerges is that the Goodco Cereal Company is imprisoning magical beings and putting their magic in its cereal. As well as doing experiments on Emily, preparatory to putting dangerous ingredients in cereal to feed the children of the entire country.
Only Scott, Erno, and Emily can stop the evil cereal company, but it won't be easy!
This book plays off Celtic mythology in a story where three kids need to save the world (and themselves). There's lots and lots of humor, with Adam Rex poking fun at consumerism, at parents who will do anything to make their children smart, cereal slogans over the years, and so much more. This book is the first volume of a planned trilogy, but it does have a satisfying ending on its own.
I will definitely want to read the upcoming volumes.