Children's Fiction Reviews:
What's new?
April 4, 2019
What happens when a proper English butler comes to serve a typical American family with a boy in middle school? He teaches him to play cricket, of course! Pay Attention, Carter Jones, by Gary D. Schmidt, plays out this situation with humor and compassion.
Happy reading!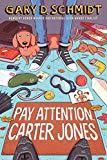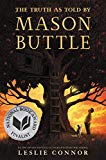 I Kill the Mockingbird

The Crossover

The Strange Case of Origami Yoda

Darth Paper Strikes Back
The Secret of the Fortune Wookiee

The Surprise Attack of Jabba the Puppett
Fake Mustache

Home of the Brave

The One and Only Ivan
Kepler's Dream

Doll Bones

Jane, the Fox & Me

Hate That Cat

Walk Two Moons
Out of My Mind

The Cat at the Wall

Better Nate Than Ever

Words with Wings
Chomp
One Dog and His Boy

The Great Greene Heist
The Thing About Luck
One False Note
Swindle

The Grand Plan to Fix Everything
Alvin Ho: Allergic to Girls, School, and Other Scary Things

Caddy Ever After

Forever Rose
Caddy's World

Heaven Is Paved With Oreos
The Small Adventure of Popeye and Elvis

Wonder

Lucky Breaks
Lucky for Good

Summer of the Gypsy Moths
The 14 Fibs of Gregory K.
The Maze of Bones: The 39 Clues, Book One
Guys Read
Funny Business

The Great Wall of Lucy Wu
True Blue

Penny Dreadful

Liar & Spy
Drama

Three Times Lucky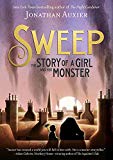 Goblin Secrets

Keeper
The True Blue Scouts of Sugar Man Swamp

The Night Gardener

The Prophecy
The Wizard Test

Jinx

Jinx's Magic

Plain Kate

Kat, Incorrigible

Renegade Magic

Stolen Magic

Over Sea, Under Stone

The Dark Is Rising

Greenwitch

The Grey King
Silver on the Tree

The Swallow

Hereville: How Mirka Got Her Sword
Hereville
How Mirka Met a Meteorite

Flora & Ulysses
The Conch Bearer
A Greyhound of a Girl
The Luck Uglies
The Facttracker
Horten's Miraculous Mechanisms
Horten's Incredible Illusions
The Ruins of Gorlan
The Burning Bridge
The Royal Ranger

Ophelia and the Marvelous Boy
Once Upon a Toad

Ghost Knight
Coraline

The Graveyard Book

Odd and the Frost Giants

Tuesdays at the Castle
Wednesdays in the Tower
A Tale Dark and Grimm
Ever After High
The Storybook of Legends

Fly By Night

The Castle Behind Thorns

The Hero's Guide to Saving Your Kingdom

The Hero's Guide to Storming the Castle

Constable & Toop

The Shoe Bird

Savvy

A Wrinkle in Time

Ever

Fairest

Fairest

The Last Battle

Where the Mountain Meets the Moon

Starry River of the Sky

A Snicker of Magic
Punished!
Wipeout of the Wireless Weenies
What-the-dickens
Abracadabra Tut

Winnie-the-Pooh

The Cabinet of Earths

The False Prince

The Runaway King

The Shadow Throne

Saving the Griffin
The Wizard of Dark Street

Akata Witch
Nuts to You

Cold Cereal
Fangbone!
Third-Grade Barbarian
Half-Minute Horrors
The Red Pyramid:
The Kane Chronicles, Book One

Deadweather and Sunrise

The Tales of Beedle the Bard

Ordinary Magic
Splendors and Glooms
Senrid

The Spy Princess

Any Which Wall

Bigger Than a Bread Box

Black and Blue Magic
Hokey Pokey

The Adventures of Nanny Piggins

The Silver Bowl
The Cup and the Crown
The Fire Chronicle

The Screaming Staircase

The Whispering Skull

The New Policeman
Breadcrumbs

The Real Boy

The Girl Who Circumnavigated Fairyland in a Ship of Her Own Making

The Girl Who Fell Beneath Fairyland and Led the Revels There

The Chronicles of Harris Burdick
Cloaked in Red
Frogged

Rose

Charlotte's Web

The Prairie Thief

A True Princess

The Wolves of Willoughby Chase

Forge

Al Capone Does My Shirts

The Mighty Miss Malone

Africa Is My Home
Bull Run

Dead End in Norvelt
From Norvelt to Nowhere

One Dead Spy

The Silver Donkey

Stonewall Hinkleman and the Battle of Bull Run
The Great Trouble
The Friendship Doll

The Lions of Little Rock

Grandfather's Dance
Jepp, Who Defied the Stars

Sawdust in His Shoes

Shiloh

The Storm in the Barn

Bluffton

The Dreamer

Beswitched

The Wednesday Wars

Okay for Now

Okay for Now

Wonderstruck

Roll of Thunder, Hear My Cry
The Time-Traveling Fashionista at the Palace of Marie Antoinette
Navigating Early

One Crazy Summer
P.S. Be Eleven
Before Green Gables

The Mysterious Howling

The Hidden Gallery

The Unseen Guest

The Interrupted Tale

Sidekicked
The Clue of the Linoleum Lederhosen
Star Wars Jedi Academy
Doc Wilde and the Frogs of Doom
LionBoy
LionBoy: The Chase
LionBoy: The Truth

The Search for WondLa
A Hero for WondLa
The Fellowship for Alien Detection
Space Case
Zita the Spacegirl
Far From Home
The Fourteenth Goldfish

Geeks, Girls, and Secret Identities

Larklight
Starcross
Mothstorm
What Came from the Stars

Guys Read
Other Worlds

When You Reach Me
The Mysterious Benedict Society