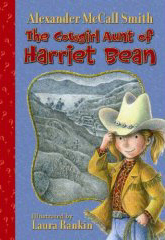 The Cowgirl Aunt of Harriet Bean
Reviewed May 7, 2008.
Recorded Books, New York, 2007. 1 compact disc. 1.25 hours.
It's always fun to listen to a British narrator, and it was a treat to listen to Charlotte Parry talking about the exploits of Harriet's detective aunts, Aunt Thessalonika and Aunt Japonica. In this book, Harriet learns that she has a sixth aunt she hadn't known about, Aunt Formica. Aunt Formica grew up on a ranch in America, and is a skilled cowgirl, but she has asked her detective sisters for help, and Harriet gets to come along.
The story is fun, reminding me of a traditional tall tale. I love Alexander McCall Smith's stories, but do think he does a little better when he writes about places where he has lived. This story set in the American West struck me as highly stereotypical. I certainly hope none of his readers would ever try to deal with a rattlesnake in the way that happens here!
All the same, this is a fun story and a quick read (or listen). This could be an excellent choice for a child just ready to read chapter books on their own. It's not too long and daunting, but does have some excitement, as Harriet and her capable aunts deal with rustlers.