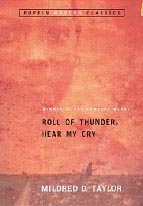 Roll of Thunder, Hear My Cry
Reviewed November 13, 2009.
Puffin Books, 1997. First published in 1976. 276 pages.
Newbery Medal Winner 1977 Starred Review
Sonderbooks Stand-out 2009
: #3 Other Children's Fiction
I've been taking a class offered by ALSC, the Association for Library Service to Children, called The Newbery Medal: Past, Present and Future. It's a wonderful class, and one of the assignments was to read a Medal-winning book from each decade that the award was offered. For my 1970s selection, I chose Roll of Thunder, Hear My Cry, because that's on the Fairfax County Public Schools list for 7th-8th graders, and is checked out frequently.
The book is truly warm and wonderful. I'm going to list it as children's fiction, because the characters are children, the oldest of whom is twelve. But the book is on the long side and the subject matter is serious, so I do think the schools are right to recommend it to middle schoolers or upper elementary.
Cassie and her three brothers live in Mississippi in 1933. Their family owns its farm, and has since their Grandpa bought the land in 1887. But times are hard, and their Papa had to go work on the railroad in Louisiana in order to pay the taxes on the land.
The book opens as the Logan family makes the long walk to school, with Little Man especially proud of his new school clothes. When the bus for the white children passes, they have to run down the bank, getting all covered with red dust, just the beginning of a series of encounters with that bus, over which the Logans eventually get a delightful revenge.
The book is about prejudice, but the story is told with humor and dignity. There's a scene at the beginning with old textbooks that reminds me strongly of a similar scene in The Absolutely True Diary of a Part-Time Indian.
Eventually, the stakes get much higher than a school bus getting them dirty or Cassie having to apologize to a white girl she bumped.
This is a wonderful story that teaches history along the way and gives you lots of food for thought.
As Mama says to Cassie:
Baby, we have no choice of what color we're born or who our parents are or whether we're rich or poor. What we do have is some choice over what we make of our lives once we're here.