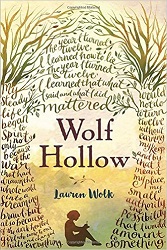 Wolf Hollow
Reviewed October 10, 2016.
Dutton Children's Books (Penguin Random House), 2016. 291 pages.
Starred Review
2016 Sonderbooks Stand-out
: #6 Children's Fiction
Here's the Prologue of this book:
The year I turned twelve, I learned how to lie.
I don't mean the small fibs that children tell. I mean real lies fed by real fears -- things I said and did that took me out of the life I'd always known and put me down hard into a new one.
It was the autumn of 1943 when my steady life began to spin, not only because of the war that had drawn the whole world into a screaming brawl, but also because of the dark-hearted girl who came to our hills and changed everything.
At times, I was so confused that I felt like the stem of a pinwheel surrounded by whir and clatter, but through that whole unsettling time I knew that it simply would not do to hide in the barn with a book and an apple and let events plunge forward without me. It would not do to turn twelve without earning my keep, and by that I meant my place, my small authority, the possibility that I would amount to something.
But there was more to it than that.
The year I turned twelve, I learned that what I said and what I did mattered.
So much, sometimes, that I wasn't sure I wanted such a burden.
But I took it anyway, and I carried it as best I could.
At the end of the book, Annabelle says:
But Wolf Hollow was also where I learned to tell the truth in that year before I turned twelve: about things from which refuge was impossible. Wrong, even. No matter how tempting.
So this is a story about Lies and about Truth, about basic questions of Right and Wrong.
It's not a World War II story, even though that's the backdrop. Annabelle lives on a farm in Wolf Hollow. She attends a one-room school and looks out for her little brothers.
The story involves a dark-hearted girl who comes to Wolf Hollow, and who looks sweet and pretty to the adults, but is a cruel and relentless bully.
It also involves a homeless man named Toby, a veteran of World War I, who roams the hills with three guns on his back and camps out in an abandoned building. Again, to adults Toby looks scary, but he's open-hearted and kind.
Annabelle has a window on both those people that isn't shared with most of the folks in Wolf Hollow.
This book isn't light-hearted and doesn't really have a happy ending. But it's a book about doing what's right and seeing who people really are.
But it's also a lovely book about love and friendship that leaves you uplifted in spite of the tough issues it uncovers.