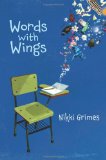 Words with Wings
Review posted February 3, 2014.
WordSong (Highlights), Honesdale, Pennsylvania, 2013. 84 pages.
Starred Review
2014 Coretta Scott King Author Honor Book
Words with Wings is a novel in verse about a girl who's a daydreamer.
Here's the poem that shares its title with the book:
Words with Wings
Some words
sit still on the page
holding a story steady.
Those words
never get me into trouble.
But other words have wings
that wake my daydreams.
They fly in,
silent as sunrise,
tickle my imagination,
and carry my thoughts away.
I can't help
but buckle up
for the ride!
Some of the poems tell about Gabby's life. Others tell about her daydreams. The daydream poems, imaginative and fun, usually start with the word that sets off the daydream. For example:
Waterfall
Say "waterfall,"
and the dreary winter rain
outside my classroom window
turns to liquid thunder,
pounding into a clear pool
miles below,
and I can't wait
to dive in.
At the start of the book, Gabby's parents split up and she has to move with her mother across town, and attend a new school. Once again, she's known as the daydreamer. She has to deal with the other students teasing her and a new teacher trying to get her to pay attention and trying not to disappoint her mother. She has some nice victories in the book, and I love how she learns to value her own imagination.