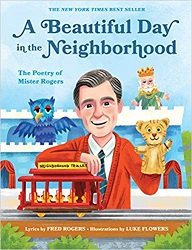 A Beautiful Day in the Neighborhood
The Poetry of Mister Rogers
Quirk Books, 2019. 143 pages.
Review written April 9, 2019, from a library book
Starred Review
They're all here! The songs that make you think of Mister Rogers, beginning with "Won't You Be My Neighbor?" including songs like "You Can Never Go Down the Drain," "What Do You Do with the Mad That You Feel?" "Everything Grows Together," "It's You I Like," "Sometimes People Are Good," "You Are Special," and finishing with "It's Such a Good Feeling."
The only thing wrong with this book? Music is not included. All of this poetry was meant to be sung. And the only tunes I can partially remember are pretty much the songs I listed in the last paragraph. So I wish they had figured out a way to include the tunes. If not in the book, then maybe an accompanying CD?
In fact, not all of the poems here were written by Fred Rogers. Several are listed with the tagline, "Lyrics by Josie Carey, Music by Fred Rogers." These poems are very much in the same style and are from the show, but unfortunately, we don't get to see Mr. Rogers' contribution.
It did dawn on me that "Everything Grows Together" would make a great song to sing at storytimes. It's one of the few that I can remember the entire tune. So that will be my new little tribute to Mr. Rogers in my storytimes.
The book is packaged with bright pictures for children. But the truth is that the songs are all so affirming and joyful that I read a few songs every day for a nice boost to my spirits as I set out on that day. Sure, some songs like "You Can Never Go Down the Drain" speak to worries I've long put behind me. But it doesn't hurt anyone, young or old, to be reminded that "You Are Special."
Mr. Rogers packed a whole lot of wisdom into his simple songs. Reading them is a cheering thing to do. I love that they have been collected!
Won't you be my neighbor?