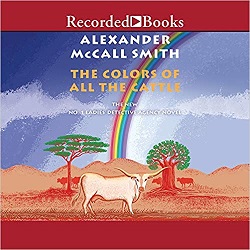 The Colors of All the Cattle
Review posted July 4, 2019.
Recorded Books, 2018. 9.75 hours on 9 discs.
Starred Review
I do love Alexander McCall Smith. Okay, he rambles at times, and his characters tend to go over and over their feelings and decisions. But they are delightful people to spend time with, and I lose my impatience when I listen to the books on my commute, since spending time with them makes sitting in traffic a much less odious experience.
This is now the 19th book about the No. 1 Ladies' Detective Agency. (Wow!) This book had more about Charlie, who was a young apprentice in the first book and is now getting to be a young man. He does some investigating in a difficult case, and we learn more about his private life.
But we also have Mma Potokwami manipulating Mma Ramotswe into running for Council – even though she doesn't want to at all. She is not the sort of person who likes politics. But her opponent is none other than the villain of every book (Okay, this is always where I roll my eyes) – Violet Sepotho. So of course she can't simply let Violet run unopposed. At stake is a proposed project to put up the Big Fun Hotel next to a graveyard – which would disrespect all the late people in the graveyard and their families.
As always, this book takes us to the heart of Botswana and shows us the heart of Botswana. It also shows some good people helping other people. And it's nice to spend time in their company, even if it feels like a little more time than another author would have given the same events. By the end, you're ready to pull up a chair, drink some red bush tea, and enjoy the stories.