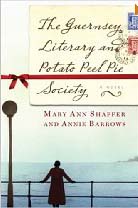 The Guernsey Literary and Potato Peel Pie Society
Review posted February 8, 2009.
The Dial Press (Random House), New York, 2008. 278 pages.
Starred Review
Sonderbooks Stand-out 2009
: #1 Fiction
I heard about The Guernsey Literary and Potato Peel Pie Society from library customers, and was completely delighted with it.
Initially, the book reminded me of 84 Charing Cross Road, since it was also a book of letters. These letters, since fictional, had even more variety and spice.
Author Julia Ashton begins a correspondence with the people of the island of Guernsey (in the English Channel) when she receives a letter that begins like this:
Dear Miss Ashton,
My name is Dawsey Adams, and I live on my farm in St. Martin's Parish on Guernsey. I know of you because I have an old book that once belonged to you -- the Selected Essays of Elia, by an author whose name in real life was Charles Lamb. Your name and address were written inside the front cover.
I will speak plain -- I love Charles Lamb. My own book says Selected, so I wondered if that meant he had written other things to choose from? These are the pieces I want to read, and though the Germans are gone now, there aren't any bookshops left on Guernsey.
I want to ask a kindness of you. Could you send me the name and address of a bookshop in London? I would like to order more of Charles Lamb's writings by post. I would also like to ask if anyone has ever written his life story, and if they have, could a copy be found for me? For all his bright and turning mind, I think Mr. Lamb must have had a great sadness in his life.
Charles Lamb made me laugh during the German Occupation, especially when he wrote about the roast pig. The Guernsey Literary and Potato Peel Pie Society came into being because of a roast pig we had to keep secret from the German soldiers, so I feel a kinship to Mr. Lamb....
Who could resist answering such a letter? Set shortly after World War II, as Julia inquires more about the Guernsey Literary and Potato Peel Pie Society, she learns about their extraordinary lives during the German occupation of the island. Since she was looking for a topic for her next book, she ends up visiting the island and the islanders quickly gain a place in her heart.
They will gain a place in the reader's heart, too.
Yes, there are some awful stories from the war, but the overall tone of the book is uplifting, heartwarming, and delightful. I thoroughly enjoyed this book.
That's what I love about reading: one tiny thing will interest you in a book, and that tiny thing will lead you onto another book, and another bit there will lead you onto a third book. It's geometrically progressive — all with no end in sight, and for no other reason than sheer enjoyment.