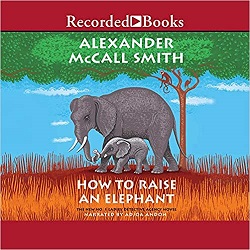 How to Raise an Elephant

Review posted September 5, 2022.
Recorded Books, 2020. 8.5 hours on 8 compact discs.
Review written October 7, 2021, from a library audiobook
Here's the latest installment of the adventures of Mma Ramotswe and her associates with the No. 1 Ladies' Detective Agency in Botswana. This audiobook has a new narrator, and I wasn't crazy about some of her character voices, but I did love the way she rolls all her Rs and of course her delightful accent.
If you haven't read any other books in this series, I do recommend beginning with the first book, The No. 1 Ladies' Detective Agency. That one is better written as a detective story, but the main point of these stories are not the cases the agency must deal with, but the relationships between the delightful characters and their observations on life and human nature.
In this one, there are three main cases to be considered: a distant cousin of Mma Ramotswe's asking for money, new neighbors moving in next door who seem to be having marital troubles, and Charlie borrowing Mma Ramotswe's tiny white van for a mysterious purpose.
The cases aren't solved by figuring out puzzles, but as we see the ins and outs revealed, we gain insights on relationships and approaching life with compassion. Though Charlie's story – which is not too surprising because of the title – ends up involving an orphaned baby elephant.
I've taken to listening to these books on my commute because I don't quite have patience for the rambling and meditative observations on human nature when reading an actual book. But stuck in traffic, they never fail to make me smile. The books are anchored in Botswana, and I'm starting to feel like the country itself is a beloved friend.