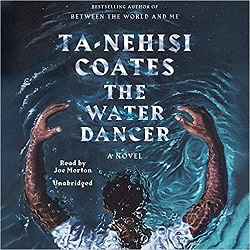 The Water Dancer
Review posted August 17, 2020.
Random House Audio, 2019. 14 hours, 14 minutes.
Review written August 10, 2020, from a library eaudiobook
Starred Review
2020 Sonderbooks Stand-out
:
#4 Fiction
With regular library audiobooks, I confess, if it's due and I have almost finished listening, sometimes I do renew to get a little more time. But I listened to this book on eaudiobook. I knew there were several holds. So I ended up staying up until 3 am to finish listening.
The story is mesmerizing, and John Morton's wonderful deep voice brings it to life. It's the story of Hiram, one of the "tasked" on a Virginia plantation before the Civil War. His father is the plantation owner, but his mother got sold further south when he was very young. But he's found favor with his father and has been made the personal servant of his half-brother.
As the book opens, something strange happens involving a blue light and a river and the road they are taking disappearing. Hiram's white brother drowns, which changes things for Hiram. Listeners learn about his life growing up on the plantation, the struggles the "quality" are having as tobacco uses up the Virginia soil, and Hiram's growing desire for freedom.
Eventually, it becomes apparent that Hiram has some otherworldly powers, but doesn't know how to harness them. He becomes involved in the underground, and even meets Harriet Tubman, who can powerfully wield "conduction" herself.
I was tempted to speed up the audio as I finished so I wouldn't have to stay up until 3 am after all, but the narrator's deep, rich voice has a meditative quality to it, and speeding it up ruined the peace I felt from listening to it. And it was totally worth the lack of sleep.
This is a powerful story which looks at history from a new angle.