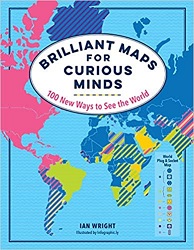 Brilliant Maps for Curious Minds
100 New Ways to See the World
Review posted August 29, 2020.
The Experiment, 2019. Originally published in the UK. 192 pages.
Review written July 29, 2020, from a library book
Starred Review
2020 Sonderbooks Standout
:
#9 General Nonfiction
This book is a collection of maps from the author's website, brilliantmaps.com. As the subtitle suggests, these maps are able to help you see the world in a different way. Most of the maps shine a spotlight on one aspect of the world and make you see that aspect differently.
The 100 maps are broken into 9 chapters: People and Populations; Politics, Power, and Religion; Culture and Customs; Friends and Enemies; Geography; History; National Identity; Crime and Punishment; and Nature.
Some of the maps you might consider silly – for example, longest place names, countries whose flags contain red or blue, and world plug and socket maps – others more serious, such as Homicide rates: Europe vs. the U. S.
Some maps I enjoyed included Probability of a White Christmas map (except that the probability is low where I live); European countries that have invaded Poland; How the North American population fits into Europe; and Countries without McDonalds.
This book is well titled. Yes, these maps are brilliant. Yes, you are sure to enjoy them if you have a curious mind.