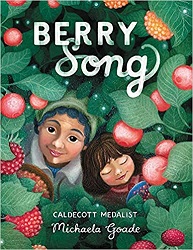 Berry Song
Review posted August 24, 2022.
Little, Brown and Company, 2022. 36 pages.
Review written August 15, 2022, from a library book
Starred Review
2022 Sonderbooks Standout
:
#1 General Picture Books
This picture book is gorgeous, as you'd expect, since it's created by a winner of the Caldecott Medal. Instead of illustrating a book from another indigenous person's traditions, she has written and illustrated this book from her own Tlingit traditions. Here's how she begins the author's note at the back:
Like the young girl in this book, I too live on an island at the edge of a wide, wild sea where I grew up picking tléiw, or berries. My home is Sheet'ká, or Sitka, Alaska. It is the same island my Tlingit grandmother, great-grandparents, and great-great-grandparents called home. All year long I excitedly wait for berry season, for the juicy salmonberries that strum the first notes of berry song, and the cranberries after the first freeze that signal its end. Every time I wander back into the forest, I am a little kid again, spellbound by the magic and joy of berry song.
The text of the picture book is a lyrical adventure of a grandmother showing her granddaughter how to get food from the land -- especially the berries. As they pick, they sing the names of the berries -- many more kinds than I even knew existed -- and thank the land for taking care of them.
The book doesn't give the tune, but you can hear the music in the words:
Salmonberry, Cloudberry, Blueberry, Nagoonberry.
Huckleberry, Soapberry, Strawberry, Crowberry.
The berries sing to us, glowing like little jewels.
We sing too, so berry -- and bear -- know we are here.
At the end of the book, in another season, the girl brings her little sister to gather more berries.
This is a lovely celebration of family and traditions and living in harmony with the land.
The endpapers identify all the berries named, with some additional photographs along with the Author's Note.