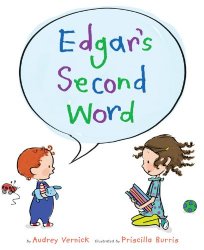 Edgar's Second Word
Review posted August 11, 2015.
Clarion Books (Houghton Mifflin Harcourt), Boston, 2014. 32 pages.
Starred Review
2015 Sonderbooks Stand-out
: #10 Picture Books
This book is simply too sweet not to review it.
Big sister Hazel has long been dreaming of reading to her new baby brother. She reads to her stuffed bunny, Rodrigo, but it wasn't the same. When Edgar finally comes along, she's excited.
But Edgar wasn't much different from Rodrigo.
Or a pillow.
Or a watermelon.
Then Hazel thinks Edgar's first word will make the difference. Now he mostly points and grunts, "like a pointing, grunting watermelon."
But when Edgar speaks his first word, let's just say it's the most common first word of any baby.
And he practices it often.
My favorite picture in the book is from when Hazel's mom takes them for a change of scene to the library, and Hazel asks Edgar to choose some books.
Edgar's "NO!" was so loud that people stared.
Some covered their ears.
A librarian fainted.
But the book finishes up with such a lovely cozy scene, the pastel pictures matching the warm cozy tone of the words:
The day's no's added up.
Everyone was tired.
Finally, it was bedtime.
Hazel reached for her no-saying grump of a brother.
Edgar got as far as "Nnn" before a tired-baby gravity settled him on her lap.
Edgar felt as weighty as two Edgars.
He leaned back, a heavy-headed, warmly cuddled, not-no-saying lamb of a ram.
Hazel began to read.
(Can't you just feel warm baby in your lap?)
When Hazel finishes reading, they think Edgar's gone to sleep. But instead, he says his second and third words. And let's just say that they're a lot more positive.
This book brings something interesting to the party of new-baby books for the bigger sibling. There's plenty of talk about the frustrations, but the cozy ending does point out that it's all worth it.
And if nothing else, parents will be charmed.