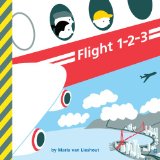 Flight 1-2-3
Reviewed August 22, 2013.
Chronicle Books, San Francisco, 2013. 36 pages.
Starred Review
As a counting book, and as the ideal book to familiarize a small child with plane flight, this book is wonderful.
A note at the back reads, "Typeset in Frutiger by Swiss designer Adrian Frutiger. Since this distinctive and legible typeface was commissioned in 1968 by Charles de Gaulle International Airport in France, it has been in use on airport signage all over the world."
The book begins, "When taking a flight, what do you see?" We've got 1 Airport, 2 Luggage carts, 3 Check-in desks. Most of the people are the iconic figures you see on airport signage, except the family we're following. The boy has a yellow cap and backpack, and his parents distinctively come along on the journey through the airport and security to the gates and the airplane.
The numbers are fun, too. After getting to "10 Gates," it skips to "100 Fastened seat belts," then "2,000 Miles. 3,200 Kilometers." And "33,000 Feet. 10,000 Meters. A million places to explore."
The final page celebrates "One happy meeting."
This is just a lovely book to look at. The simple font and iconic pictures are perfect for small children to easily see what's going on. And they will be able to find the things from the book in the airport, whatever airport they may happen to visit.
I so wish this book had existed when my children were small and we were flying around Europe! As it is, I think this will spark a "Things That Go" theme for my next Mother Goose storytime. I want to let all the parents know about this wonderful book!