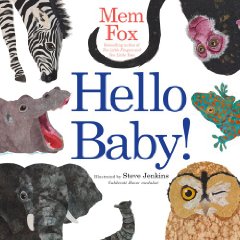 Hello Baby!

Reviewed June 27, 2009.
Beach Lane Books, New York, 2009. 32 pages.
Okay, this one you simply have to look at yourself. Yes, again Mem Fox has created lyrical, soothing rhymes to share with a baby:
Hello, baby!
Who are you?
Are you a monkey with clever toes?
Perhaps you're a porcupine, twitching its nose.
Are you an eagle, exploring the skies?
Perhaps you're a gecko with rolling eyes.
But what makes this book stunning and unforgettable are the incredibly detailed cut-paper illustrations by Steve Jenkins. I've raved about his illustrations before, in my reviews of Actual Size and Dogs and Cats. They only seem to get better with each new book. When I saw Hello Baby! I had to pass it around to my co-workers to watch them marvel as well. He makes cut paper look alive.
These animals aren't necessarily the traditional ones you'd teach your baby, including warthogs and geckos. But I'm sure the visual feast here will capture your child's attention. There's a final cozy question:
Then who are you, baby?
Wait, let me guess--
Are you my treasure?
The answer is . . .
Yes!
I like the way they made the hands reaching out to each other a range of colors, so you can see almost anyone's hue there. That's one place it doesn't look as lifelike, because no real person's hand has all those colors, but the use of mottled paper in that place works so that it could apply to anyone.