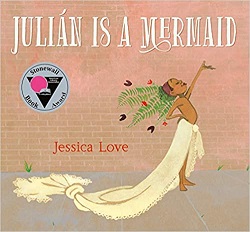 Julián Is a Mermaid
Review posted May 13, 2020.
Candlewick Press, 2018. 36 pages.
Starred Review
Review written May 24, 2018, from a library book
2019 Stonewall Children's Literature Award Winner
2018 Sonderbooks Standout
:
#6 Other Picture Books
Julián Is a Mermaid is a wonderful story told with magnificent illustrations. On the front end papers we see a young boy swimming underwater while his abuela looks on. Abuela and her four friends – all approximately Abuela's age and body type – are in the pool, too, wearing swim caps and holding onto the edge.
The book still hasn't started. On the title spread, we see Julián and Abuela walking to the train station, with three tall, beautiful women flamboyantly dressed as mermaids walking behind them.
The book officially begins on the train. The mermaids get on the train, too. The text reads:
This is a boy named Julián. And this is his abuela.
And those are some mermaids.
Julián LOVES mermaids.
One of the mermaids waves to Julián. We can tell that the big book he's reading has a picture of a mermaid inside.
The next spreads show Julián's imagination. He's in the water. He kicks off all his clothes but his underwear. A swarm of fish sweeps past – and Julián has a tail! He's a mermaid! Another big fish gives him a necklace.
But he's pulled out of the dream when the train reaches their stop. The mermaids wave good-by.
At home, while Abuela is taking a bath, Julián wants to live in his imagination a little longer. He takes off his clothes except his underwear, makes a mermaid crown with plants and flowers (this part is all shown with pictures), puts on lipstick – and uses the fluffy lace curtain from the window to make a beautiful tail. Julián stands triumphant in the same pose as in the picture on the cover.
When Abuela comes out, she doesn't exactly look happy. We can see Julián considering what he has done.
And then, Abuela, all dressed now, gives Julián a bead necklace to complete his outfit. They go out the door together.
We aren't sure where they're going – but as they walk, we see many people, all dressed as sea creatures.
"Mermaids," whispers Julián.
"Like you, mijo. Let's join them.
And Julián and Abuela end up walking along the beach as part of a long ocean parade, all sorts of people in wonderful costumes – and the mermaids from the train right in front of them.
On the back endpapers, we've got Abuela's swim group again, but this time they're all underwater and they have all grown tails. Julián the mermaid is swimming beneath them.
The first lovely thing about this book is the illustrations. They are exquisitely and beautifully done. (In fact, I would be so happy if this book won the Caldecott.) All the people are distinct characters, and the art carries the story in most of the book.
But what's especially lovely is that nowhere at all is Julián told that a little boy shouldn't imagine being a mermaid. Abuela looks askance at him for taking down her lovely lace curtain – but even that she goes with.
And I love, love, love the way she encourages his imagination by letting him join the parade of others dressed as he is.
And nobody puts any restrictions on this boy's imagination.