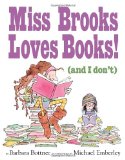 Miss Brooks Loves Books!
(and I don't)
Reviewed June 11, 2010.
Alfred A. Knopf, New York, 2010. 28 pages.
Starred Review
I've been a Barbara Bottner fan ever since our family got the book Bootsie Barker Bites and had the privilege of reading it over and over to our sons. When I saw this brand-new book she'd written, I knew it would be the perfect choice for the five second-grade class library tours we did in May.
Miss Brooks Loves Books (and I don't) features an exuberant school librarian. In fact the only thing that gives me pause about this book is how Miss Brooks is an uber-librarian who puts me to shame. But she's a great character, so I can enjoy her without feeling too guilty.
Miss Brooks goes overboard to get her classes to love books like she does. But the cynical little girl telling the story is not amused. The art for this book is absolutely perfect, with Miss Brooks dressing up as picture book characters and bursting with energy. The little girl, on the other hand, conveys all the body language -- eye rolling, turning away, slumping -- of someone who is just plain bored. Clearly she finds Miss Brooks tiresome. "Vexing" is the word she uses.
Then comes Book Week. Truly terrifying. All the kids are supposed to dress up for their favorite story and tell the class why they love it.
The girl is still unimpressed by the presentations about trains and fairies and cowboys and dogs. But then her mother finds her a book with warts in it. She reads Shrek! by William Steig.
Shrek has hairs on his nose. And he snorts. I love that!
My favorite part is when the girl dons an ogre costume and makes stick-on warts for the whole class.
It goes to show --
Even ogres (like me) can find something funny and fantastic and appalling in the library.
And that is the slimy truth.