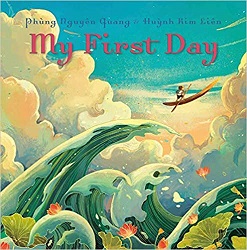 My First Day
Review posted July 29, 2021.
Make Me a World (Penguin Random House), 2021. Originally published in Vietnam in 2017. 40 pages.
Review written May 19, 2021 from a library book
Starred Review
Here's a mind-expanding book with lush paintings. This picture book doesn't tell you what it's the first day of until the end.
As the book opens, you see a boy come out of his house on stilts and get into a small boat on the big river. Every spread is entirely filled with one grand picture, and most of the pictures are mostly filled with the river, with the small boy in a boat somewhere in the spread. Here's how the text begins:
Where the great river, mother Mekong, tumbles into the endless sea . . . that is where I live.
I wake up with the sun creeping into the sky and wait for tide and time to bring to me my little open boat.
Today is the first day.
This is the first time I've made this trip on my own, weaving through floodwaters and forests.
Mama said I'm big enough now to go by myself. Papa said to be careful because that's what papas do.
The paintings make this trip into an epic journey. The boy goes through waves dwarfing his boat, rain and a dark forest all around, a crocodile and other creatures lurking in the water – and comes out to a bright sky with storks flying ahead of him, all manner of fish beneath him, and even a herd of water buffalo looking at him kindly.
Before he gets to his destination, we see many other kids in boats, traveling the same direction. "Hello, friends!"
And then with the final page of the story, we learn where this adventurous journey has taken him – to his first day of school.
Notes at the back set the story in the Mekong Delta and tell how the river is used as a roadway and in many other ways.
It's a lovely starting-to-school story that shows children in another part of the world are the same – excited about starting school – but different in the way they get to school. Along with the stunningly beautiful pictures, this is a book you won't forget. Because the book was originally published in Vietnam, it won't be eligible for the Caldecott Medal, but the illustrations are so amazing, it would surely be in the running if that weren't the case.