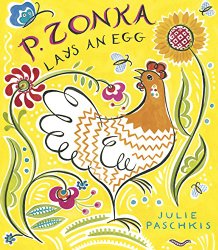 P. Zonka Lays an Egg
Review posted May 9, 2015.
Peachtree, Atlanta, 2015. 36 pages.
Starred Review
All the other chickens laid eggs regularly, but not P. Zonka. She's a dreamer. She wanders around the farmyard day in and day out, staring at flowers and gawking at clouds. She looks down at the shiny green grass and gazes up at the deep blue sky. She notices big red tulips and little pink cherry blossoms.
The other hens criticize her and urge her to make an effort.
Day after day, Nadine, Dora, and Maud and all of the other hens filled baskets of eggs.
P. Zonka didn't lay a single egg.
"Why?" asked Maud.
"Please tell us why," said Dora.
"Why indeed?" clucked Nadine.
"Cock-a-doodle-doo?"
"I will tell you why," said P. Zonka.
"Because of the pale mornings, the soft dark moss, the stripes on the crocuses, the orange cat with one blue eye, the shining center of a dandelion, the sky at midnight."
"I don't get it," said Maud.
"P. Zonka is just plain lazy," said Nadine.
"Come on, P. Zonka," urged Dora. "You might like laying an egg."
"Cock-a-doodle-doo!"
"Can't you at least try?" they all asked.
When she does? The result is extraordinary! Let's just say there's a reason the author gave her a name that sounds like pysanka -- a Ukrainian decorated egg.
After that, P. Zonka went back to wandering around the farmyard. She looked down and she gazed up. She clucked in wonder at all the colors she saw. She didn't lay very many eggs...
...but the ones she laid were worth the wait.
I've told you about the delightful ending, but this is a book you need to see for yourself. The illustrations all along remind the reader of pysanky, sunny and beautiful and carefree. The message reminds me of Leo Lionni's classic, Frederick.
And I love the idea that pysanky are actually laid by chickens who notice beautiful things. Also that beautiful things are worth a little wait.