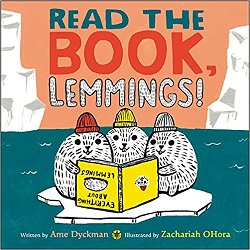 Read the Book Lemmings!
Review posted February 27, 2018.
Little, Brown and Company, 2017. 36 pages.
Starred Review
2018 Sonderbooks Standout
:
#4 Picture Books - Silly Fun
This book simply makes me laugh. Ame Dyckman and Zachariah OHora know exactly how to hit my funny bone.
The end papers at the front of this book set us up. We're in the Arctic, with several icebergs in view. A small one in front has a big sign, which says:
lemmings: small, fuzzy, illiterate rodents who share the icy North with arctic foxes and polar bears. People used to think lemmings jumped off cliffs. Now we know they don't.
High on top of a nearby icy cliff, we see three little furry creatures. One is jumping off and saying, "Wonder what that says."
The next is saying, "Me too!"
And the third is saying, "Ditto!"
The first page gets us right into the action. We see a ship made out of a big black whale. On its deck are a polar bear and an arctic fox, dressed as captain and crew of the ship. The three lemmings are now on deck, too, close to the edge.
Foxy found a quiet spot to read his book about lemmings. "Huh!" Foxy said. "Says here, lemmings don't jump off cliffs.
"Jump? I'll jump!" said a lemming.
"Me too!" said a second.
"Ditto!" said a third.
The next page shows them jumping: GERONIMO-O-O-O-O!
And that's what the book is about. Foxy saves them after they jump into the water. He tries to get them to read the book about lemmings. But any time someone says, "Jump" – they do.
Finally, Foxy and Captain PB figure out that the lemmings don't know how to read, although Ditto can burp the alphabet. So Foxy teaches the lemmings to read, and they learn that lemmings don't jump off cliffs!
Of course, they do find a new way to get into trouble.
The fun of this book is the slapstick humor of the lemmings flinging themselves off cliffs and Foxy continuing to save them. The illustrations give us lots of humor and lots of variety – turning sideways at times to show us how far they're falling. Of course, the endpapers at the back feature that same sign – modified.
I do love the Author's Note at the back:
When I was little, I saw a movie that showed lemmings jumping off cliffs. Years later, I learned that, except in very rare cases, lemmings DON'T jump off cliffs. My first thought was, "OH NO! DID ANYONE TELL THE LEMMINGS?!" So, we made this book. You're welcome, lemmings.
Good, silly fun.