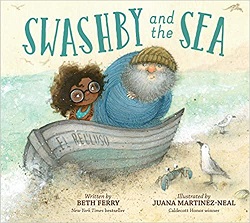 Swashby and the Sea
Review posted 2/1/21.
Houghton Mifflin Harcourt, 2020. 32 pages.
Starred Review
Review written July 7, 2020, from a library book
2020 Sonderbooks Standout
:
#9 Fiction Picture Books
Swashby and the Sea is a charming story of an old sea captain who likes living alone, by his friend the sea. His little boat is even called El Recluso. But when neighbors move in, a little girl and her granny, the girl doesn't respect Swashby's boundaries. She climbs on his deck and spreads out on the beach near his house.
Swashby knows what to do.
Swashby battened down the hatches,
hid when the doorbell rang, and fed their oatmeal cookies to the gulls.
He didn't need neighbors.
He didn't want neighbors.
Neighbors were nosy, a nuisance, annoying.
So, in return, he left a message written clearly in the sand,
NO TRESPASSING
which the sea fiddled with, just a little bit.
"SING," the girl read.
And did just that.
She sang every song she knew while dancing up and down Swashby's deck.
There are more messages in the sand, and the sea keeps fiddling with them. Something I like about this book is that I didn't figure out how the sea would transform the message – but then when I saw it, it was perfect.
There's maybe a predictable adventure that gets Swashby finally truly committed to friendship, but the whole thing is a charming story of an old crusty sailor and a little Black girl bubbling with joy. I should add that the pictures are consistently wonderful and convey the characters' personalities and the magic of the sea.