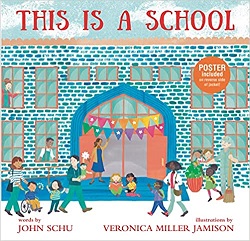 This Is a School
Review posted July 1, 2022.
Candlewick Press, 2022. 36 pages.
Review written April 20, 2022, from a library book
Starred Review
A disclaimer here is that I know the author from his work with ALSC, the Association for Library Services to Children, when we were on a committee together. He's been working with children and children's books for a long time, and this book reflects that.
This picture book is simple and lovely and reassuring. Here's how it begins:
This is a kid.

This is a kid in a class. This is a class in a hall.

This is a hall in a school --

WELCOME!
It goes on with many things that happen in a school, with pictures of all kinds of kids interacting with others. There's diversity in both ethnicity and abilities.
I love this page:
This is a community, growing.
The pages show kids celebrating, playing, learning, reading, performing, and more.
There's a spread with a little girl putting a fishbowl on top of library shelves. It slips and the fishbowl breaks, so they need to clean up and find a new home for the fish. That's portrayed in pictures, and the text says:
Some days we do the right thing . . . and some days we definitely don't.

We fail.
We try.
We learn.
We trust.
The entire book would be wonderful to read to a new elementary school classroom as the year begins, picturing a group of people in community together.
I do love the way the school library is featured. And in the summing up at the end, librarians are listed first.
This is our class. This is our school:
librarians and coaches, helpers and staff,
principals and teachers, kids and friends.

And we are all important.
It's not a flashy book, but it conveys a truly important message.