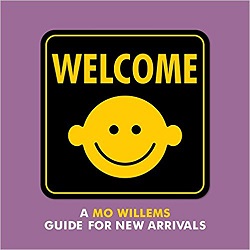 Welcome
A Mo Willems Guide for New Arrivals
Review posted February 24, 2018.
Disney Book Group, 2017. 28 pages.
Starred Review
Yay! I have been invited to a baby shower, so I have a reason to purchase this book! I actually read it last year when visiting my newborn niece, but I didn't have a chance to write a review. Now I've been enjoying the book before I wrap it up….
What I need to do is simply urge you to read this book. It's brilliant. You will enjoy it.
I'll say a little bit about it. It's written as a sort of travel guide for a new baby, telling them what to expect. The illustrations are essentially icons, as found in manuals. It's funny and charming.
A wonderful touch is that most pages end with the words "while we read this book together."
Here's a nice page at the start:
PLEASE ENJOY YOUR STAY
Many activities are available for you to enjoy,
including, but not limited to:
SLEEPING and WAKING,
EATING and BURPING,
POOPING and MORE POOPING.
[All the capitalized words have icons on the facing page.]
Other options are available upon request
and will be updated on a regular basis.
Of our current offerings, I can personally recommend
your being right here with me . . .
while we read this book together.
And here's a nice page at the end:
CONDITIONS MAY VARY
We will strive to make your stay
as comfortable as possible. However . . .
There will be TURBULENCE.
There will be UNEXPECTED EVENTS.
There will be HUMAN ERROR.
Fortunately, we are happy to provide you LOVE
At no extra cost.
A warm and delightful book that tells newcomer what they can expect out of life, and that they have people standing by 24 hours a day, 7 days a week, to provide Love.
May this book get many chances to be read child and parent together.