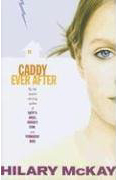 Caddy Ever After
Reviewed August 12, 2007.
Margaret K. McElderry Books (Simon & Schuster), New York, 2006. 218 pages.
Starred Review.
Sonderbooks Stand-out 2006
: #3, Children's Fiction
I love the Casson family! Their delightful chaos and artistic creativity are authentic and warm-hearted.
Each of the books features one of the children of the family. In this one, Caddy gets to be in the title and has the most dramatic story, but each kid gets a long section to tell. In many ways, the story is truly about obsessive, creative Rose, who gets to begin and end.
The book begins with Rose telling us about why the Ghost Club has been banned from her school, and her daring rescue attempt.
Then Indigo takes up the story. He begins, "I can only think of two things that Rose is good at. One is art and the other is loving." Indigo goes on to tell how Rose inspired him to invite Sarah to the Valentine Dance, and how he figured out a way to get her to go, despite her wheelchair.
Saffron then tells about how she lets down her friend Sarah and is haunted by a balloon. Then she ends up lost and stranded with Rose, and they are saved by someone whom Caddy thinks is probably the "Real Thing."
So Caddy plans a wedding, but Rose is terribly upset. Because Caddy is planning to marry someone who isn't darling Michael.
Once again, Hilary McKay weaves an absolutely delightful tale.