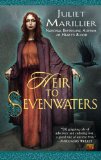 Heir to Sevenwaters
Review posted May 25, 2012.
A Roc Book (Penguin), 2008. 398 pages. Starred Review
2012 Sonderbooks Stand-out
: #1
Fantasy Fiction
The Sevenwaters books showed all the signs of being a trilogy. So reading a fourth book feels like a wonderful bonus. Again, we're looking at another generation of the people of Sevenwaters, in ancient Ireland. Again, the story has echoes of myths and fairy tales.
This book features Clodagh, the daughter of Sean and Aisling. She must go into the realm of the Fair Folk first to save her brother, then for the sake of the man she loves. This book is romantic and mythic and an incredibly good adventure. The worst thing about these books is how hard it is to stop reading them.
Finbar made a little sound. My whole body stiffened in alarm. His voice was different; wrong. It was not the cry of a healthy, hungry baby but a curious, painful rasp. No normal child made a sound like that. Finbar must be sick. He was choking, he couldn't breathe . . . I sprang up and hastened to the basket, my heart racing. I looked down, an image of my baby brother still fresh in my mind -- the delicate fingers, the soft eyelids, the peachy skin and rosebud mouth. My heart gave a single thump and was still. Now I was cold all over. Finbar was gone. All that lay in his little bed was a curious jumble of sticks and stones, leaves and moss.
Once again, despite the title, this is the story of a young woman. A young woman who has dealings with the Fair Folk, who is strong beyond her years, and who will risk everything for those she loves.