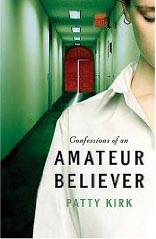 Confessions of an Amateur Believer
Review posted March 6, 2009.
Nelson Books, 2006. 271 pages.
Starred Review.
2008 Sonderbooks Stand-out
: #2 Nonfiction, True Stories
Patty Kirk grew up Catholic but wandered away from God and traveled all over the world. When she came back to America, she married a Christian farmer, and ended up becoming a Christian herself. This section from "About the Author" summarizes what the book is all about:
God began infecting every aspect of her daily life, converting every struggle to a miracle and holding her to account for every apparent victory. She fought hard against these changes, in her marriage and parenting, her work, her mind. She recorded her battles with God in free-form spiritual writings part praise, part lament, part exegesis, woven together with narratives of her daily life and her sometimes unwilling research into what it means to believe in God.
This book is a collection of those essays on spiritual things. They are beautifully written and full of insight. Those who follow my Sonderquotes blog will recognize Patty Kirk's name, as I read through the book slowly, and so often found highly quotable paragraphs.
These are musings or meditations on life, God, the spiritual journey. The author is open and honest, and readers will find her a kindred spirit. She's not afraid to talk about things a lot of us feel, but don't necessarily know how to express as well.
This book explores how, having begun to believe as a child and lost sight of God for half a lifetime, I came not only to recognize him again but, by struggling with scripture and my own habits of unbelief, to acknowledge and celebrate his active participation in my life.
I love the picture she presents of God in these pages, a God who loves us, and who is not mean.
A big thank you to John, a Sonderbooks reader who recommended this book to me!